*BNF/PNP Version Include:
HGLRC Sector 5 V3 Freestyle FPV Racing Drone
Net Weight:442.4g(Weight without receiver)
Sector 5 V3 Freestyle Frame 5 inch
Type:5″ frame
Wheelbase:218mm
Support for propellers:up to 5.2 inches
Overall size:172.5 * 136.7mm
Weight:177.9g(contain TPU)
F722 Flight Controller
MPU:MPU6000
CPU:STM32F722 RET6
Input Voltage:3-6S Lipo
BEC Output:5V/3A,9V/2A
Weight:7.6g
60A BL32 3-6S 4in1 ESC
CPU:STM32F051
Input Voltage:3-6S Lipo
Steady Current:60A
Peak Current:65A(10 Sec)
Weight:18g
HGLRC 2306.5 Brushless Motor
1900KV (6S) / 2550KV (4S)
No.of Cells(Lipo):16.8 V / 25.2 V
Recommended Prop(inch):5Inch
M80 GPS
Power Supply:5V
Size:18.5mm x 18.5mm x 7.1mm
Weight:9.4g
W554A LED Light board
Motor Valtage:2-6S
LED Voltage:5V
Overcurrent:50A
Size:34.8×7.9mm
Weight:5.2g(4 pcs)
Package Included:
1x F722 Flight Controller
1x 60A BL32 3-6S 4in1 ESC
1x Sector 5 V3 Freestyle Frame Kit
4x 2306.5 1900KV Motor | 2306.5 2550KV Motor
4x W554A LED Light board
——————————————————————————————————————————————————————————————————————————
HGLRC Sector 5 V3 Freestyle frame 5 Inch for FPV Racing Drone Compatible with 5.8G VTX and DJI Air Unit
-No Props in view
No more props in view with the V3. Enjoy the clear view of flying!
-Adjustable camera mount angle
Adjust the angle of the camera mount from 25°, 30°, 35° to 40° to suit your needs.
-Capacitor slot to hide the capacitor for a neater look
Cannot find the capacitor in the drone? it is "hidden" somewhere 🙂
-A complete range of TPU parts
All the STL files of the TPU parts used in this drone will be available for free! You can always print spare parts by yourself if you have a 3D printer. Check the files here
Note: the GoPro 7 mount is not included in the package.
Features:
Flight control installation damping system
Gopro Universal Mount
Gopro fixied bracket
Gopro Mount
Gopro lens protector
Motor protector Mount
T shaped antenna Mount
GPS Mount
SMA antenna Mount
DJI ANT antenna Mount
Base plate protector Mount
DJI Air Unit Mount
DJI FPV camera lens protector
Power cord fixed Mount
Capacitor mounting slot.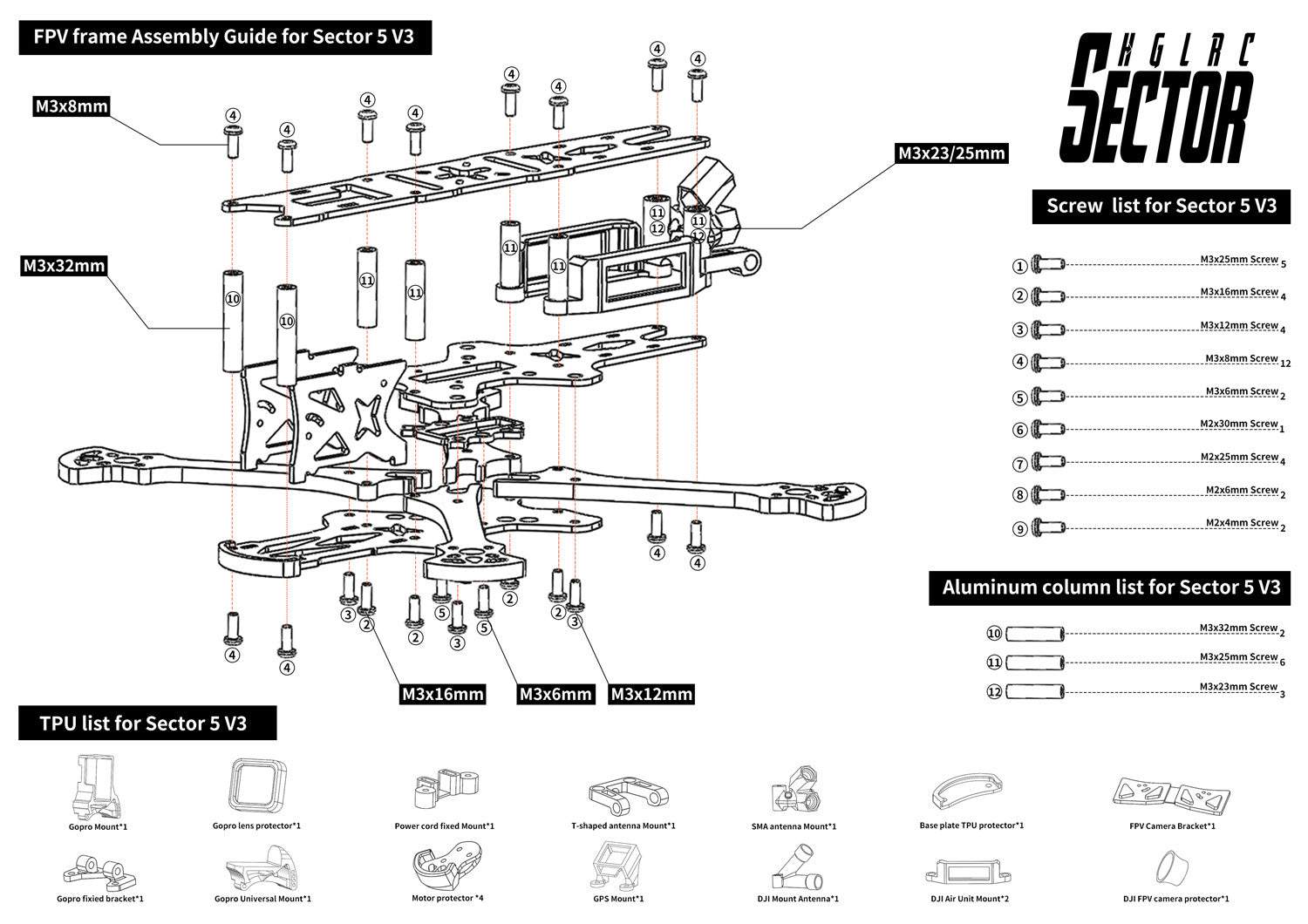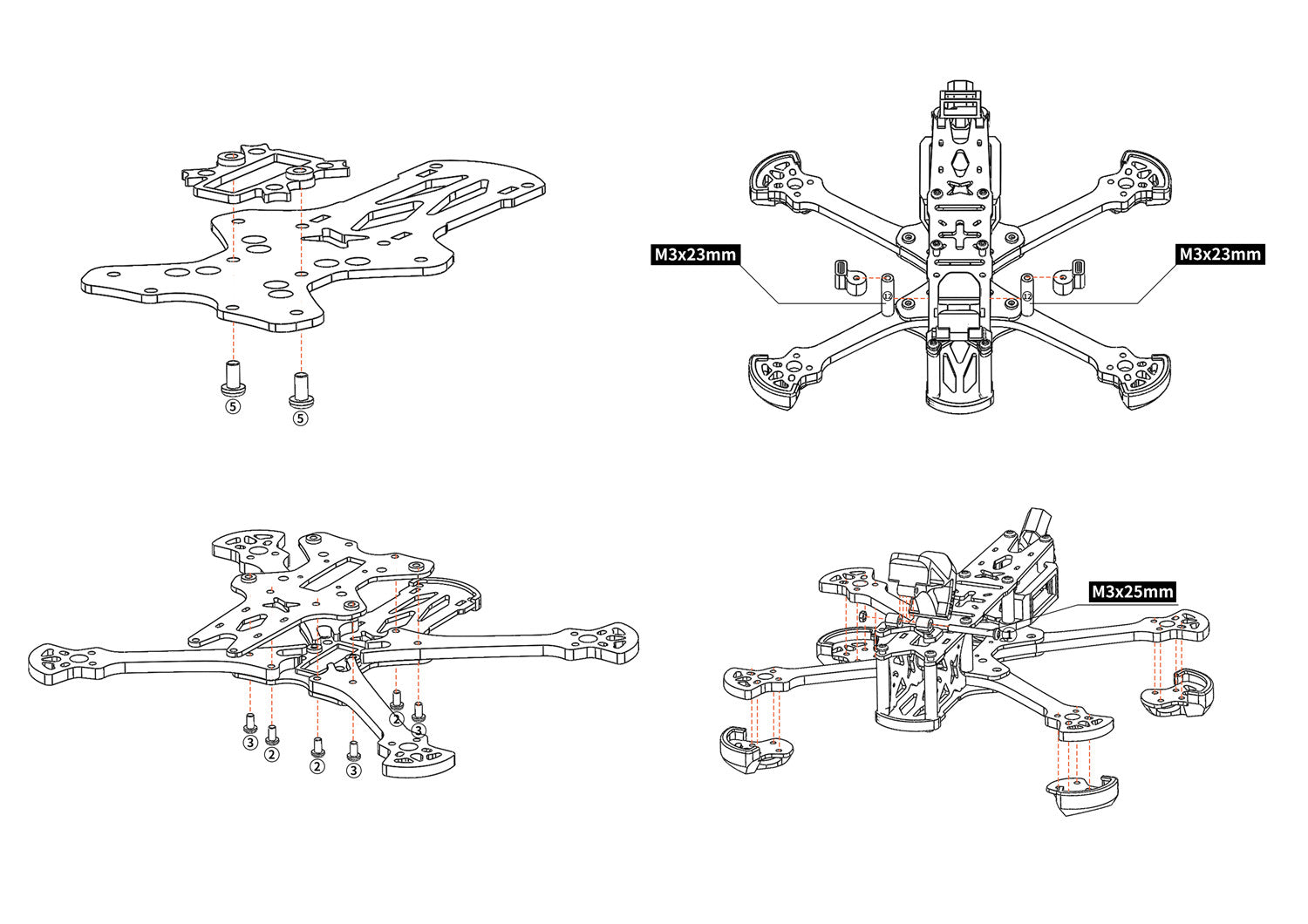 Package Included:
1x 2mm top plate
1x 2mm bottom plate
1x 2mm middle plate
4x 5mm arm
2x 2mm side plate
2x M3*32mm black aluminum column
6x M3*25mm black aluminum column
3x M3*23mm black aluminum column
5x round head screw M3*25
4x round head screw M3*16
4x round head screw M3*12
12x round head screw M3*8
2x round head screw M3*6
1x round head screw M2*30
4x round head screw M2*25
4x round head screw M2*12
2x round head screw M2*6
2x round head screw M2*4
4x M2*5 black nylon column
6x M3 Self-tightening nut
10x M2 Self-tightening nut
4x antenna protection tube
12x M3*6.6 shock absorber ball
8x M2*6 shock absorber ball
2x Battery cable tie 20x200mm
2x Battery cable tie 20x250mm
1x Battery Anti-slip tape
1x Gopro Universal Mount
1x Gopro fixied bracket
1x Motor protector Mount
1x T shaped antenna Mount
1x GPS Mount
1x SMA antenna Mount
1x Base plate protector
1x DJI Air Unit Mount
1x DJI FPV camera lens protector
1x DJI ANT antenna Mount
1x Power cord fixed Mount
1x 20 to 30 mounting adapter
Note: The GoPro 7 mount is not included in the package, but you can print it with the STL files shared above. For Go Pro 8 mount you can get the file here